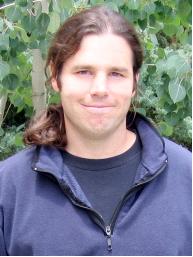 Brian Munsky
Contact Info
munsky@lanl.gov
Profile
Brian Munsky earned his B.S. and M.S. degrees in Aerospace Engineering at the Pennsylvania State University in 2000 and 2002. He completed his Ph.D. in Mechanical Engineering at the University of California at Santa Barbara, for which he received the Best Ph.D. Thesis Award for the 2007-2008 academic year. He is a currently a Richard P. Feynman Distinguished Postdoctoral Fellow in CNLS, CCS3 and B9.
Brian's research focuses on the use of dynamical systems and control theory to analyze stochastic gene regulatory networks. More specifically, he develops computational and theoretical tools to understand single-cell and single-molecule measurements from techniques including flow cytometry, fluorescence microscopy and time lapse microscopy. By carefully integrating computational and experimental studies, Brian uses single-cell data to discover more useful biological models and uses these models to design more informative experiments. Brian's recent publication in Molecular System Biology was awarded the 2010 Leon Heller Postdoctoral Publication Prize in Theoretical Physics
Brian is an organizer of the q-bio Conference on Cellular Information Processing (August 10-14, 2011) and the q-bio Seminar Series. He is also the theme leader for Stochastic Gene Regulation theme of the q-Bio Summer School in Los Alamos, NM on July 24-August 9, 2011.
http://cnls.lanl.gov/External/people/Brian_Munsky.php
Recent Publications
Munsky, B., and Khammash, M.,Identification from stochastic cell-to-cell variation: A genetic switch case study, IET Systems Biology, 4, No. 6, 356-366 (2010).
Khammash, M. and Munsky, B., Stochastic Gene Expression: Modeling, Analysis, and Identification, B. Levine, The Control Handbook, Second Edition, Taylor & Francis Group, New York, NY (2010).
Bel, G., Munsky, B. and Nemenman, I., Simplicity of Completion Time Distributions for Common Complex Biochemical Processes, Physical Biology, 7, No. 016003 (2010).[Journal Site]
Munsky, B., Nemenman, I. and Bel, G., Specificity and Completion Time Distributions of Biochemical Processes, Journal of Chemical Physics, 131, No. 235104 (2009).[Journal Site]
Munsky, B., Trinh, B., and Khammash, M., Listening to the Noise: Random Fluctuations Reveal Gene Network Parameters, Molecular Systems Biology, 5, No. 318 (2009).[Journal Site]
Munsky, B. and Khammash, M., Transient Analysis of Stochastic Switches and Trajectories with Applications to Gene Regulatory Networks, IET Systems Biology, 2, No. 2, 323-333 (2008).[.pdf] [IEEE Site]
Munsky, B. and Khammash, M., Using Noise Transmission Properties to Identify Stochastic Gene Regulatory Networks, Proc. 46th IEEE Conference on Decision and Control, Cancun, Mexico (2008).
Munsky, B. and Khammash, M., Computation of Switch Time Distributions in Stochastic Gene Regulatory Networks, Proc. 2008 American Control Conference, THB10.2, Seattle, WA.[.pdf]
Munsky, B. and Khammash, M., The FSP Approach for the Analysis of Stochastic Noise in Gene Networks, IEEE Transactions on Automatic Control, 53, 201-214 (2008).[.pdf]
Inglesias, P., Khammash, M., Munsky, B., Sontag, E., and Del Vecchio, D., Systems Biology and Control - A Tutorial, Proc. 45th IEEE Conference on Decision and Control, New Orleans, LA (2007).
Munsky, B. and Khammash, M., A Multiple Time Interval Finite State Projection Algorithm for the Solution to the Chemical Master Equation, Journal of Computational Physics, 226, 818-835 (2007).[.pdf]
Munsky, B. and Khammash, M., Analysis of Noise Induced Stochastic Fluctuations in Gene Regulatory Networks , J. SICE, 5, 405-411 (2007).[.pdf]
Peles, S., Munsky, B. and Khammash, M., Reduction and Solution of the Chemical Master Equation Using Time Scale Separation and Finite State Projection, Journal of Chemical Physics, 125, 204104 (2007).[.pdf]
Munsky, B. and Khammash, M., A Reduced Model Solution for the Chemical Master Equation Arising in Stochastic Analyses of Biological Networks, Proc. 45th IEEE Conference on Decision and Control, San Diego, CA (2006).[.pdf]
Munsky, B. and Khammash, M., The Finite State Projection Algorithm for the Solution of the Chemical Master Equation, Journal of Chemical Physics, 124 , 044104 (2006).[.pdf]
Khammash, M. and Munsky, B., Systems Theory Applications in Biology: From Stochastic Chemical Kinetics to Deterministic Model Invalidation, Invited paper-European Control Conference, Kos, Greece (2007).[.pdf]