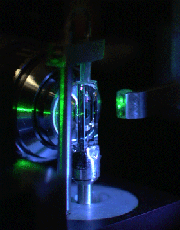 The National Flow Cytometry Resource (NFCR), located in the Bioscience Division at Los Alamos National Laboratory, is funded by the National Center for Research Resources through the National Institutes of Health. The NFCR pursues the development of advanced flow cytometry instrumentation and applications, and transfers these developments to the biomedical science community.
Attune Flow Cytometer
Based on accoustic focusing technology developed at Los Alamos National Laboratory this instrument is now commercially available. It recently was selected as one of the Top Ten Innovations 2010 by The Scientist.
R&D 100 awards
The NFCR team has a strong history of innovation. Click here to see the five R&D 100 awards that we have received.
Conferences
CYTO 2010 NFCR staff presented talks and posters this year.
Flow Cytometry Courses
The 37th Annual course in Flow Cytometry will be held at Bowdoin College in Brunswick, Maine, June 14-20, 2013.
The 36th Annual Course in Flow Cytometry was held at the University of New Mexico June 8-14, 2013
The activities of the NFCR include:
Technological research and development focused on the development of new instrumentation and applications to address important problems in biomedical science
Pursuing active collaborations with both basic science and clinical researchers
Providing researchers with access to state-of-art flow cytometry instrumentation for kinetics, spectroscopy, and molecular analysis
Training, service, and dissemination to the biomedical research community through courses, tutorials, workshops, and consulting