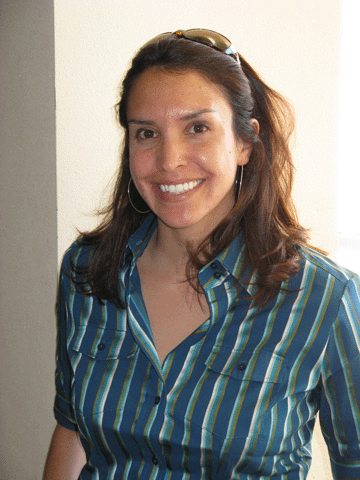 Jessica Houston
Contact Info
Assistant Professor of Chemical Engineering at New Mexico State University
MSC 3805 PO BOX 30001
1040 South Horseshoe Drive
Las Cruces, NM 88005, USA
Tel: (575) 646-5563
Fax: (575) 646-7706
E-mail: jph@nmsu.edu
Webpage: http:// chemeng.nmsu.edu/JPH/index.html

Profile
Jessica earned a B.S. in Chemical Engineering from New Mexico State University in 2000 and in 2005, completed her Ph.D. in Chemical Engineering at Texas A&M University. She joined the NFCR in May of 2006 and began work on frequency-domain flow-cytometry measurements as a Director's Postdoctoral Fellow. During her post-doc she worked to optimize phase-sensitive cytometry instrumentation to acquire fluorescent lifetime measurements for novel biological applications. This work lead to the development of digital fluorescence lifetime for sorting and analysis. In August 2009, Jessica Houston joined the New Mexico State University faculty as an Assistant Professor within the Department of Chemical Engineering. She continues to collaborate with the NFCR; Jessica's research in phase-sensitive cytometry was carried over to NMSU and is currently being developed by her National Institutes of Health--National Institute of Biomedical Imaging and Bioengineering grant (number R15EB012013). In addition, Dr. Houston has a related project funded b the National Science Foundation on Instrument Development for Biological Research (DBI-0964172). In general, the Houston Laboratory at NMSU is working on methods of introducing phase filtering, multi-frequency measurements, and standard phase-sensitive flow cytometry for applications ranging from the need to eliminate autofluorescence to the need for better separation methods for cells expressing fluorescent proteins. Recently Jessica was awarded a Sony Young Faculty Scholarship Award (2010).
Recent Publications
Jenkins PL, Freyer JP, Naivar MA, Houston JP (2011). Flow Cytometric Separation of Spectrally Overlapping
Fluorophores Using Multifrequency Fluorescence Lifetime Applications Proc. SPIE (in press).
Houston JP, Naivar MA, Freyer JP (2010) Capture of Fluorescence Decay Times by Flow Cytometry. Current
Protocols in Flow Cytometry, Submitted.
Houston JP, Naivar MA, Freyer JP, (2010) Digital Analysis and Sorting of Fluorescence Lifetime by Flow
Cytometry. Cytometry Part A, 77: 861-872.
Goddard GR, Houston JP, Martin JC, Graves SW, Freyer JP (2008) Cellular Discrimination Based on Spectral Analysis of Instrinic Flourescence. Proc. SPIE, 6859:685908.
Houston JP, Naivar M, Martin JC, Goddard G, Carpenter S, Mourant JR, Fryer JP (2008) Endogenous Fluorescence Lifetime of Viable Cells by Flow Cytometry. Proc. SPIE, 6859: 68590T.