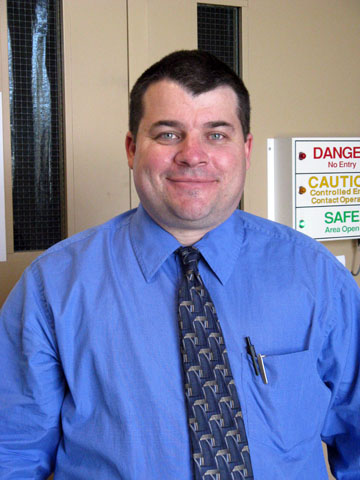 Steve Graves
Contact Info
graves@unm.edu
505-277-2043

Profile
The National Flow Cytometry Resource – This activity centers around the development of new flow cytometry assays and instrumentation for biomedical and biotechnology applications. The NFCR has numerous flow cytometers and flow sorters to aid in the current application. The general goal of this project is technology development. I am one of four research PI's on this project and as such have full access to all of the NFCR's resources (NIH 5P41RR001315-25, Freyer - PI).
Low Cost Portable Flow Cytometry – This activity is geared to developing a low cost portable flow cytometer for use in resource poor settings. In this project we are developing all aspects of a miniature low cost portable flow cytomter. Technologies developed here have and are serving as seeds for spin-off diagnostics and will provide new technologies for many analysis applications. I am the PI of this project. (NIH 5R21RR020064-03, Graves – PI).
Rapid Iterative Detection of Massive Numbers of Pathogens – This activity is developing field based particle manipulation assays, signatures and instrumentation for the automated detection of large numbers of pathogens. This project will also develop ancillary diagnostic technologies and assays of value to almost any biotechnology project. I am PI on this project (DOE LANL LDRD DR20070010).
High-Throughput Flow Cytometry and Protease Screening – This activity is geared towards the development of high throughput flow cytometry assays and instrumentation specifically for protease activity. It will have synergy with any assay or assay target requiring high throughput screening. I am co-PI on this project with Dr. Bruce Edwards of UNM. (UNM Joint Science and Technology Laboratory funding).
Raman Spectral Flow Cytometry – In this activity we are developing new instrumentation, reagents and assays for a novel flow cytometry instrument designed to measure the Raman signature of individual particles. Porject will be synergistic with any project requiring high information content screening. I am co-PI on this project. (DOE LANL LDRD ER funding.   Doorn – PI).
Recent Publications
Naivar MA, Wilder ME, Habbersett RC, Woods TA, Sebba DS, Nolan JP, Graves SW
(2009) Development of small and inexpensive digital data acquisition systems using a microcontroller-based approach, Cytometry 75A:979-989.
Applegate RW Jr, Marr DW, Squier J, Graves SW (2009) Particle size limits when using optical trapping and deflection of particlesfor sorting using diode laser bars, Opt Express. Sep 14;17(19):16731-8.
Saunders MJ, Graves SW, Sklar LA, Oprea TI, Edwards BS (2009)High-Throughput Multiplex Flow Cytometry Screening for Botulinum Neurotoxin Type A Light Chain Protease Inhibitors, Assay Drug Dev Technol Dec 28.
Watson DA, Brown LO, Gaskill DF, Naivar M, Graves SW, Doorn SK, Nolan JP (2008) A flow Cytometer for the Measurement of Raman Spectra. Cytometry Part A, 73A:119-128.
Goddard GR, Sanders CK, Martin JC, Kaduchak G, Graves SW (2007) Analytical performance of an ultrasonic particle focusing flow cytometer. Anal. Chem., 79: 8740-8746.
Naivar MA, Parson JD, Wilder ME, Habbersett RC, Edwards BS, Sklar L, Nolan JP, Graves SW, Martin JC, Jett JH, Freyer JP (2007) Open, reconfigurable cytometric acquisition system: ORCAS. Cytometry, 71A (11): 915-924.
Habbersett RC, Naivar MA, Woods TA, Goddard GR, Graves SW (2007) Evaluation of a green laser pointer for flow cytometry. Cytometry, 71A: 809-917.
Despande A, Hammon RJ, Sanders CK, Graves SW (2006) Quantitative analysis of the effect of cell type and cellular differentiation on protective antigen binding to human target cells. FEBS Lett. 580: 4172-4175.
Goddard G, Martin JC, Graves SW, Kaduchak G (2006) Ultrasonic particle-concentration for sheathless focusing of particles for analysis in a flow cytometer. Cytometry 69A: 66-74.
Goddard G, Martin JC, Naivar M, Goodwin PM, Graves SW, Habbersett RC, Nolan JP, Jett JH (2006) Single particle high resolution spectral analysis flow cytometry. Cytometry A 69: 842-851.
Saunders MJ, Kim H, Woods TA, Nolan JP, Sklar LA, Edwards BE, Graves SW (2006) Microsphere based protease assays and screening application for lethal factor and factor Xa. Cytometry A 69: 342-352.
Graves SW, Nolan JP, Sklar LA (2005) Molecular assemblies, probes and proteomics in flow cytometry. In: Flow Cytometry in Biotechnology, Sklar LA, ed. (Oxford University Press, London) Chapter 9: 153-177.

Graves SW, Woods TA, Kim H, Nolan JP (2005) Direct fluorescent staining and analysis of proteins on microspheres using CBQCA. Cytometry A 65: 50-58.
Woods TA, Graves SW, Nolan JP (2005) Microsphere surface protein determination using flow cytometry. In: Current Protocols in Cytometry, Robinson JP, Darzynkiewicz Z, Dobrucki J, Hyun WC, Nolan JP, Orfao A, Rabinovitch PS, ed. (Wiley Interscience, New York) Chapter 13.2: 13.2.1-13.2.13.