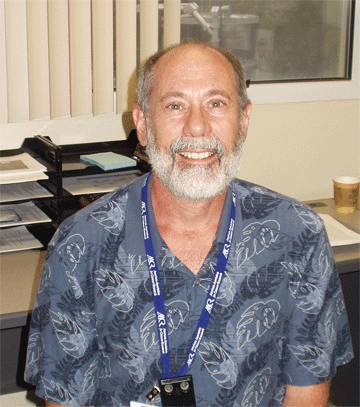 Jim Freyer
Contact Info
freyer@lanl.gov
505 667 8229
Profile
Jim has been collaborating with the NFCR since 1982, and was selected as NFCR Director in 2005. His research interests include the application and development of new in vitro models of the tumor microenvironment, the development of optical methods of cancer detection and flow 'cytometric' analysis of subcellular organelles. His current NFCR projects include application of the high sensitivity instrument to mitochondrial and DNA structural analysis, applications of phase-sensitive flow cytometry and development and application of full spectral resolution flow cytometry.
Recent Publications
Trujillo, A., Marina, O.C., Freyer, J.P., Smith, H.O., Mourant, J.R (2012) Viability of mammalian tumor cells after exposure to acetic acid, in press.
Jenkins PL, Freyer JP, Naivar MA, Houston JP (2011). Flow Cytometric Separation of Spectrally Overlapping
Fluorophores Using Multifrequency Fluorescence Lifetime Applications Proc. SPIE (in press).
Houston JP, Naivar MA, Freyer JP (2010) Capture of Fluorescence Decay Times by Flow Cytometry. Current
Protocols in Flow Cytometry, Submitted.
Houston JP, Naivar MA, Freyer JP, (2010) Digital Analysis and Sorting of Fluorescence Lifetime by Flow
Cytometry. Cytometry Part A, 77: 861-872.
Goddard GR, Houston JP, Martin JC, Graves SW, Freyer JP (2008) Cellular Discrimination Based on Spectral Analysis of Instrinic Flourescence. Proc. SPIE, 6859:685908.
Houston JP, Naivar M, Martin JC, Goddard G, Carpenter S, Mourant JR, Freyer JP (2008) Endogenous Fluorescence Lifetime of Viable Cells by Flow Cytometry. Proc. SPIE, 6859: 68590T.
Naivar MA, Parson JD, Wilder ME, Habbersett RC, Edwards BS, Sklar L, Nolan JP, Graves SW, Martin JC, Jett JH, Freyer JP (2007) Open, reconfigurable cytometric acquisition system: ORCAS. Cytometry, 71A (11): 915-924.
Mourant JR, Dominguez J, Carpenter S, Short KW, Powers TM, Michalczyk R, Kunapareddy N, Trujillo A, Guerra A, Freyer JP (2006) Comparison of vibrational spectroscopy to biochemical and flow cytometry methods for analysis of the basic biochemical composition of mammalian cells. J. Biomed. Optics, 11 (6): 064024.
Jiang Y, Pjesivac-Grbovic J, Cantrell C, Freyer JP (2005) A multiscale model for avascular tumor growth. Biophys. J. 89: 3884-3894.
Mourant J, Kunapareddy P, Carpenter S, Freyer JP (2005) Vibrational spectroscopy for identification of biochemical changes accompanying carcinogenesis and the formation of necrosis. Gynecol. Oncol. 99: S58-S60.

Mourant JR, Short KW, Carpenter S, Kunapareddy N, Coburn L, Powers TM, Freyer JP (2005) Biochemical differences in tumorigenic and nontumorigenic cells measured by Raman and infrared spectroscopy. J. Biomed. Opt. 10: 1-15.
Short KW, Carpenter S, Freyer JP, Mourant JR (2005) Raman spectroscopy detects biochemical changes due to proliferation in mammalian cell cultures. Biophys. J. 88: 4272-4288.