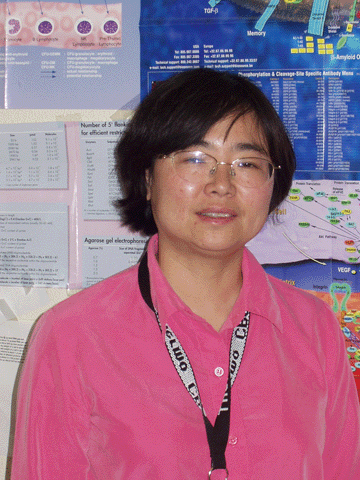 Hong Cai
Contact Info
Profile
Profile
Recent Publications
Chen J, Zhou J, Sanders CK, Nolan JP, Cai H. (2009) A surface display yeast two-hybrid screening system for high-throughput protein interactome mapping, Anal Biochem. Jul 1;390(1):29-37. Epub 2009 Mar 17.
Chen J, Zhou J, Bae W, Sanders CK, Nolan JP, Cai H (2008) A yEGFP-Based Reporter System for High-Throughput Yeast Two-Hybrid Assay by Flow Cytometry.  Cytometry Part A 73A:312-320
Du Y, Gu S, Zhou J, Wang T, Cai H, MacInnes M, Bradbury EM, Chen X (2006) The dynamic alterations of H2AX complex during DNA repair detected by a proteomic approach reveal the critical roles of Ca2+/calmodulin in the ionizing radiation induced cell cycle arrest. Molec. Cell. Proteomics 5: 1033-1044.
Werner JH, Cai H, Keller RA, Goodwin PM (2005) Exonuclease I hydrolyzes DNA with a distribution of rates. Biophysical J. 88,2: 1403-12.